Ven. Taesan Dharma, MDiv, is a Zen Master and Professor of Buddhist Studies at Buddha Dharma University and is the Founder, Abbot, and guiding teacher of the Original Mind Zen Sangha. Ven. Taesan is a Bodhisattva Monk in the Five Mountain Zen Order and also teaches high school English. He practiced for several years in the Japanese Harada-Yasutani and Soto lineages before finding his home in the Five Mountain Zen Order. Taesan writes a Zen blog, Original Mind, and offers a free weekly Buddhist podcast. He has authored four books about Zen and meditation.
Ven. Domun Prajna, MDiv is Professor of Buddhist Studies at Buddha Dharma University. A Bodhisattva Monk and a bishop in the Five Mountain Zen Order, he began training with Ven. Wonji Dharma in early 2004 at the Ocean Eyes Zen Center in Long Beach. Ven. Domun writes the Zen Blog – Mind Makes Everything and has written one book:
Mind Makes Everything
Ven. Jingak Go'son Prajna is Professor of Buddhist Studies at Buddha Dharma University. After finishing his enlistment in the military, Ven. Go'son took a class on Zen Buddhism at the University of California at Los Angeles where he met his first Zen Master Thich Thien An who was teaching the class he was taking. Ven. Jingak, being intrigued by the practice of meditation eventually was ordained in the White Plum Asanga at the Zen Center of Los Angeles where he studied Soto Zen Buddhism for 20 years. While working in Las Vegas he discovered Buddha Dharma University which led to his ordination in the Five Mountain Zen Order.
Ven. Ryongwan Karuna, LCSW is a Dharma Holder and Professor of Buddhist Studies at Buddha Dharma University. He was initially ordained as a Sramanera at Kwan Um Sa in Danville, Illinois. He lives in Evansville, IN and is an Assistant Professor in the School of Social Work at the University of Southern Indiana in Evansville. He is a licensed clinical social worker (LCSW), a licensed clinical addiction counselor (LCAC), a member of the National Association of Social Workers (NASW), and is recognized as a member of the Academy of Certified Social Workers (ACSW) by NASW. His work is primarily with adults addressing mental health and addiction issues. Additionally, he works part-time at an outpatient therapy practice in Evansville called Within Sight.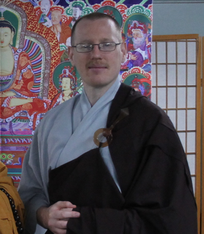 Rev. Wonmin Prajñā, MA, is Professor of Buddhist Studies at Buddha Dharma University. For seven years he moved between Taiwan and China as a teacher.He was able to witness many types of Buddhism in action: from grandiose architectural wonders teaming with monks and tourists; to isolated hill-top temples with a single care-taker monk in old peasant clothing–indistinguishable from anyone else in the mountain top community. It was during this time that he began practicing at the Lotus Temple in Mianyang, Sichuan. He earned an MA in Religious Studies from Stanford University, focusing on Eastern religions, and later joined the Navy as a Hospital Corpsman. He began further study at Buddha Dharma University and began serving as his ship's Buddhist Lay leader over their first deployment. In 2014 he received vows as a Śrāmaṇera within FMZO and is working on formally becoming a Buddhist Navy Chaplain.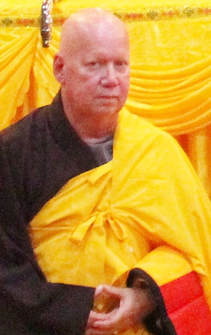 Rev. Yongak Prajna, MSN is Professor of Buddhist Studies at Buddha Dharma University. He has spent his lifetime journey plodding through many spiritual practices. Always finding truth to be allusive, always believing it was but a tad further up the road. Until the realization it is but a tad more inward. He describes a indefinable clarity at birth and until age six. After age six he began entering the conceptual world where clarity was obscured. He was raised up in the Congregational Christian Church (Christened) and Society of Friends as a small child, attended Roman Catholic Kindergarten and first grade at Friends Select. He later wandered through many denominations, the most meaningful being the Mennonite Church. Over the years he was a lay youth minister, Sunday School Teacher and Bus Pastor. Intertwining with these stops on his journey were non-Christian forays which brought deeper insights into the words of Jesus and Christian Mystics…During a mediation experience he was simply directed to take a path to other religions. During his thirties he took the Bodhisattva vows, though without ceremony. Yongak credits the works and words of Paramahansa Yoganada, St. Chrysostom, Abdul Baha, The Dalai Lama, Patrul Rinpoche, Alan Watts, and many others numerous to list, to a path toward awakening. Important as well were two little books he found in his twenties in a flea market Vols. I and II of A Search for God, published in 1942 by Reverend Edgar Cayce.
​His practices has been primarily Lam Rim and Vissapanna solo retreats, most of his sitting or walking has been self-directed. Yongak's primary and present teacher Ven. Dr. Wonji Dharma pointed out that awakening comes from through the intersection of introspection of insight. On October 24th of 2015, he took Novice vows publicly at True Nature Sangha in Bar Harbor Maine. Br. Yongak presently lives in Butner/Creedmoor, North Carolina with his wife Teresa and dog Max. His describes his direction as that of a simple monk of kindness who seeks to help others to get unstuck and move on to their awakened nature.
Rev. Cheryl Barnes-Neff, MDiv, PhD is an Associate Professor of Buddhist Studies and a member of Thich Nhat Hahn's community. She works in Quality Assurance for a Hospice Care System in Florida. Rev. Barnes-Neff attended Northwestern Theological Seminary and graduated with the Class of 2015 · PhD · Biblical studies · Port Richey, Florida.
Rev. Eunsahn Citta is an Assistant Professor of Buddhist Studies at Buddha Dharma University. He received lay ordination in 2009 from the San Francisco Zen Center, and later full ordination with the Five Mountain Zen Order. Prior to finding the Original Mind Zen Sangha in April 2012, Eunsahn was involved with the Elberon Zen Circle in NJ, where he served as Ino. Practicing in different Zen schools has been an eye-opening experience, showing the need to "put it all down," including all attachments, even to Zen. Eunsahn writes the No-Bodhi Knows blog and is a moderator for the Zen Buddhism & Buddhism Q&A Google+ communities.
Cornelius Boots is an Assistant Professor of Buddhist Studies Award-winning composer Cornelius Boots is in full-blooded collaboration with the deceptively simple, yet devilishly difficult shakuhachi flute of Zen Buddhism. He is also a specialist in Taimu, its baritone brother. The result is a rich and inspired collision of classic rock, blues, heavy metal, and Zen Buddhist nature hymns from monasteries. After a 30-year career of high-caliber jazz, classical, rock and experimental music activities, Boots has positioned himself at the crossroads of personal expression and divine revelation. "He's not just an amazing musician, he's like a mystic with a tube in his face." –Maurizio Benazzo, co-founder, Science and Nonduality.
Rev. Jeonchan Prajna – Assistant Professor of Buddhist Studies
Reverend Jeonchan Prajna is a fierce advocate for those born in a woman's body who seek to find their answers in Way, and for those born in Black and Brown bodies who simply wish for enough air to breathe and the freedom to live their lives as they please.
​
She is located in downstate New York, loves animals (and will care for any who need a hand), and most appreciates wild spaces and those who live in them.